Back in July, I wrote about how Amazon Robotics is using AWS to build the next generation of robots in our warehouses. In that post, I shared how even the most seemingly mundane aspects of a system are crucial to achieving fully functional robots as opposed to just automation. I also predicted:
"In the coming years, we will see a rapid evolution of robotic capabilities, reliability, and safety, all driven by the seamless integration of emerging technologies, cloud, and newly connected hardware."
Now, the reality is that this isn't so much of a prediction as it as an observation of what's already happening all around us. Robots are becoming more and more commonplace in our world, playing roles in everything from performing surgery, to cleaning the floor, to teaching young children. Today's robots come in all shapes, sizes, and appearances. With the prevalence of robots operating in a variety of industries, it may look like we've reached a new age of robotic proliferation, but really, there are still many barriers for robotics companies to overcome to create the impact they know they can make. This is why AWS is excited to announce its strategic collaboration with MassRobotics to launch the AWS Robotics Startup Accelerator, focused on guiding and mentoring a cohort of robotics startups.

As I wrote previously, people have been using robots in industrial settings since the mid-20th century. Back then, robotics was in its infancy. The pioneering robots of the early 20th century were simple, only able to perform basic tasks like wheeling themselves around a room, observing a scene, and to a degree, responding to a given environment. However, the impact of automation by robots was undeniable. Fast forward well over half a century and now robots use advanced robotics technology and machine learning for sophisticated purposes such as complex manufacturing, picking and packing, last-mile delivery, environmental monitoring, search and rescue, and surgical assistance. In 2019 alone, there were 373,000 industrial robots and cobots (collaborative robots) installed worldwide.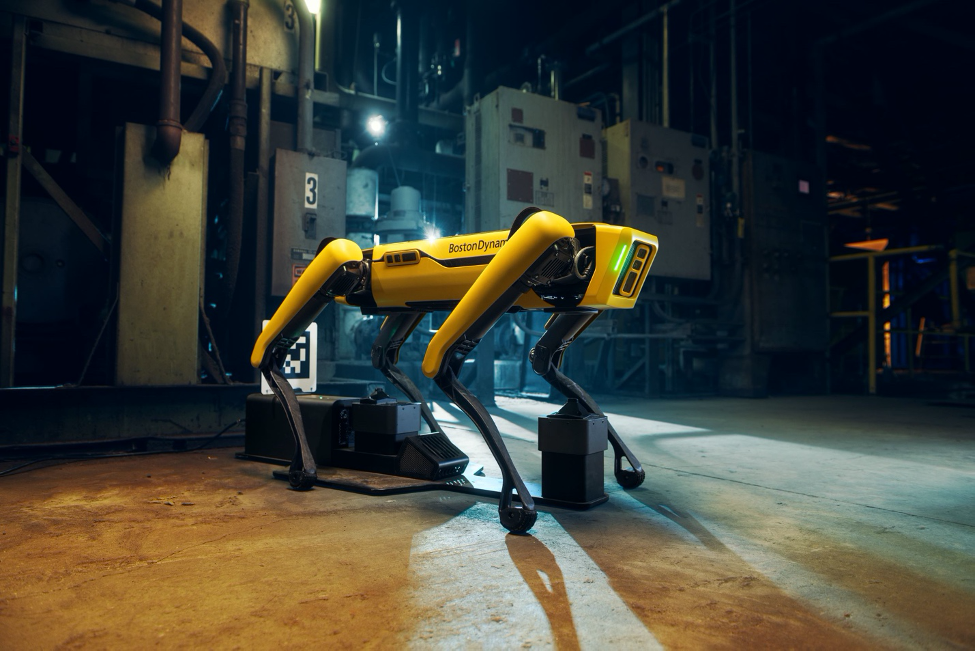 Boston Dynamics Spot™ Robot can be deployed in industrial environments to complete tasks that are dangerous or tedious for humans.
We seem to be in the early days of an exponential growth in robotics. With access to managed artificial intelligence (AI), machine learning (ML), and edge services in AWS, and a library of pre-configured robotics open-source software packages in the Robotics Operating System (ROS), it's never been easier to program a robot. What used to take companies years can now be built in months. This growth is accelerated further by the falling cost of robot hardware like sensors, actuators, and batteries. On the demand side, increasing customer expectations for e-commerce innovations such as two-day shipping and same-day grocery delivery are creating a growing market for more capable robots.
Startups are fueling robotics innovation
For any industry, when production cost becomes more economical, barriers to entry are lowered and the number of players typically increases. Recently, we've seen an increasing number of startups succeed in launching robotics products. In fact, robotics startups have been at the forefront of adapting existing sensor, compute, and actuation technology to build innovative robots. Today, there are hundreds of startups around the globe building robots for a wide range of purposes. Because of these startups, we now have robots that follow you around and carry your groceries, provide security for your home, farm your land, explore the moon, and even walk in fashion shows.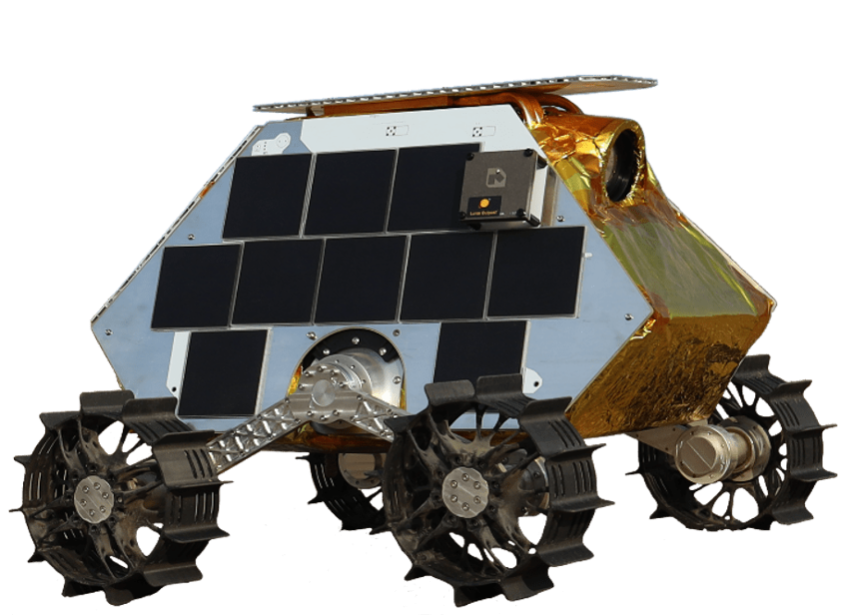 Lunar Outpost's mobile robot navigates the surface of the moon and collects data for research using AWS RoboMaker and Amazon QuickSight.
Yet, for as much as the production barriers to robotics have been lowered, building a robotics startup still requires multidisciplinary expertise in mechanical engineering and electronics, as well as AI/ML. It's challenging for startups to find people who are skilled in both traditional hardware and newer technologies such as AI/ML. Additionally, robotics startups need to invest their scarce resources on domain-specific value-add activities to carve a niche and accelerate their time-to-market. Today, there are only a few successful commercial robotics companies, and there are a few big reasons for this. First, finding a fit in the robotics product market is difficult because real-world environments are dynamic and unpredictable, so pairing the right niche with the right capabilities can be a challenge. Second, building robots with a high degree of autonomy and intelligence requires multidisciplinary skills that are hard to find and recruit for. Third, robotics is capital intensive and requires large up-front investment in sensors, actuators, and mechanical hardware even when they're already commercially available.
The AWS Robotics Startup Accelerator
When I talk to AWS customers, they tell me it's critically important to develop capabilities across multi-disciplinary areas including AI/ML, simulation, data streaming, edge processing, and robotics management. They ask for guidance implementing solutions for security, reliability, right-sizing, and provisioning for future growth. In addition, they're looking for advice on well-architected designs, partner selection, channels like AWS Marketplace on which to market, and device qualification services.
The AWS Robotics Startup Accelerator delivered by MassRobotics aims to help robotics startups adopt and use AWS to boost their robotics development, as well as get hands-on support from industry and AWS experts to rapidly scale their business.
We're running the accelerator with MassRobotics, a leader in launching innovative robotics programs. The accelerator is a four-week technical, business, and mentorship opportunity open to robotics hardware and software startups from around the globe. MassRobotics is among the world's leading accelerators focused on robotics and has helped dozens of emerging robotics companies through its own residency program. You've probably heard of at least a few companies that have participated in MassRobotics' residency, including Real Time Robotics, ActivSurgical, and Waypoint Robotics (acquired by Locus Robotics). As our collaborator in the AWS Robotics Startup Accelerator Program, MassRobotics will support select startups with an intensive, advanced curriculum specially designed to accelerate their growth using AWS.
Startups accepted into the four-week program will consult with AWS and MassRobotics industry experts on business models and with AWS robotics experts for help overcoming technological blockers. Program benefits for startups include hands-on training about AWS solutions for robotics and up to $10,000 in promotional credits for use of AWS IoT, Robotics, and ML services to help guide them forward. Participants will gain additional knowledge through mentoring from robotics domain experts and technical subject matter experts. To get ready for life after the accelerator, startups will also get business development and investment guidance from MassRobotics, and co-marketing opportunities with AWS via blogs and case studies.
Startups interested in applying to be part of the program can learn more here. Applications close on Sunday, January 16, 2022.
I can't wait to see what robotics startups build together with AWS.
Now, go build.